We all know quality retail fixtures from a reliable vendor are key. But let's face it: In these times of "do more with less," what you really want is more than just another vendor. You want a partner who operates as part of your team, helping you get from rendering to opening day on time and on budget.
Enter the Randal Program. Designed especially for the retailer ready for growth or large-scale improvement, our Randal Program brings all of our core services into one turn-key solution. One direct service provider. One locked-in pricing and billing system. One execution of your unique corporate standards. One partner you trust.
With the Randal Program, your hands-on Project Manager is by your side from concept to execution to installation. Bringing you value-engineering ideas to save you money, and running a final quality check on your fixtures before they leave the shop floor. In the field alongside you, working as hard as you are to get ready for your store open.
PROGRAM ADD-ONS:
Many clients have additional service needs that Randal is well-suited to accommodate. The most requested of these is warehousing. Our 250,000-square-foot warehouse can hold all of your stores' components, from POS systems to kitchen appliances and equipment.
Whether we act as your purchaser or just your receiver, we inventory and kit package your goods with the same attention to detail and on-time guarantee we give your fixtures, freeing you to focus on the demands of the field.
OTHER ADD-ON SERVICES INCLUDE:
Site surveys
Architecture and permit drawings
Complete store build-out
Union and non-union labor available
National maintenance and repair
Everyone likes a pretty picture. But when it comes to fixture design, Randal understands pictures are just visions unless they actually translate to the three-dimensional world.
Our designers benefit from our nearly 35 years of experience in millwork, custom manufacturing, and construction. That means your fixtures are designed to fit your budget, scale to your growth, and – most of all – perform in-store.
Do we understand how vital it is to stay true to your brand? Absolutely. Do we know store design is critical to the customer experience? You can count on it. When you couple our respect for aesthetics with our first-hand experience of how customers interact with fixtures (yes, your gym members will stand on top of your locker room vanities to flex!), you get a design that works.
RANDAL'S DESIGNS ARE:
Maximized for value engineering to save you time and money
Optimized for a multi-store rollout, so you avoid costly "prototype store syndrome"
Scalable to your production needs, from 10 stores across the region to 110 locations nationwide
Functional and able to withstand wear-and-tear in the store
Clients often look to us to improve their existing renderings. But it is those who collaborate with us before taking graphite pencil to paper who reap the full monetary and time gains of our expertise. Those clients' designs utilize appropriate materials from the first draft.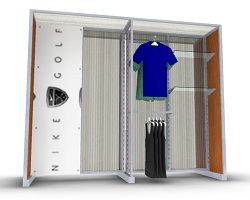 Their plans incorporate corner guards and vinyl bases to hold up to customer abuse. And their custom fixtures work seamlessly with their store's media needs. So when that final design draft is approved, the store is assured to be on brand, on task and on budget.
We hear you. You've been promised "quality product and reliable service" before. But here's the thing: Randal has the experience and the innovation to back it up. For proof, look no further than our shop.
When it comes to our fixture manufacturing standards, we don't cut corners. And our continued investment in the latest software and technology ensures that when we promise on-time delivery, you can set your watch to it.
The Randal Signature Laminate that we apply both to our fixtures' interior and exterior makes the competitors' contact cement seem a little…tacky. By the time a cabinet wall comes out of our vacuum press, it's practically bulletproof. Bonus: Pre-laminating saves you money and lead time.
Dowelled and screwed joinery may not be standard in the retail store fixtures industry – but it's a given at Randal, and it renders our fixtures twice as strong as the other guys'. Also built to last: our edges, which boast a 3mm edging, compared to others' 0.018". Each and every piece we produce is barcoded to optimize speed, accuracy and efficiency, so no dollar or day is wasted. Each step of every project is tracked by our JobBOSS enterprise resource planning software, so when the inevitable change in a store opening schedule occurs, we can predict with absolute certainty how quickly we can accommodate.
OUR OTHER CREDITS INCLUDE:
Made in the U.S.A.
National Forest Certification
LEED certification capabilities
Sophisticated Microvellum AutoCAD® software
Custom laminate finishes
In-house solid surface capabilities
In-house painting and finishing
Vacuum and membrane press
All this comes to you at a competitive price we are willing to guarantee – up to three years, in fact. While fuel, source and utility prices fluctuate wildly from month to month, we manage to keep your fixtures price stable. Promise.
We may be deeply rooted in woodworking, but in over 35 years in the retail fixture industry, we've picked up some complementary skills. Namely, how to apply our reliable and responsive service to the warehousing and shipping needs of our clients. We must say, we wear these hats well.
The true benefit of our warehousing actually begins in the shop. We've found the "sweet spot" where just-in-time delivery meets low inventory costs meets ability to change your fixture package a third of the way into your national rollout. What is it, you ask? Five.
Five stores' fixtures manufactured at once, and housed in our warehouse until the sites are ready. The other guys? They won't even set foot in the shop for fewer than 25 stores at a time. That's right: when the inevitable adjustment to your fixture package arises, it's too late; your order is too far down the assembly line. Randal, meanwhile, is agile enough to accommodate the unpredictable nature of your world.
Once you send the signal that one or more sites is primed and ready, we will move it from our 250,000 square foot warehouse and onto our truck, and deliver it within just three days to any destination nationwide. Unlike trucking brokers who operate with vague, unreliable delivery windows, we give you one delivery date – and then deliver. Our dedicated carriers and team drivers ensure on-time delivery every time, and we utilize a state-of-the-art GPS tracking system to hold them to it.
Just ask our current clients – they've learned Randal is the one vendor that doesn't require a "padded" delivery date. No broken promises, no installation team waiting on the other end, no gouges into your bottom line.
When the packaging comes off, you'll find your fixtures looking like they just came off the shop floor. We purposefully keep our trucking partners to a minimum, only trusting a select few who we have vetted and trained to load, pack and unload retail fixtures. We often find our clients' own freight departments are not well-suited to handle fixtures. By the time they've been hauled off and on the freight truck several times to make room for your products, fixtures often show up damaged. Randal's trailers are sealed as they leave our warehouse, so they arrive without a scratch. In fact, our delivery team boasts a damage rate of less than one percent.
Agile response to your changing needs. On time delivery. Fixtures that show up ready to work. Randal strives to offer service you'll tip your hat to.
Your retail store fixtures. They're not much more than cabinet walls and a few shelves, right? Shouldn't anyone with a power drill be able to put them together? Installation is simple in theory – but in reality, it pays to leave it to the professionals at Randal.
ON TIME:
Our team of installers work exclusively with millwork, assembling the same store packages over and over again from location to location. They know your fixtures inside and out (and right side up – we've seen more than one unspecialized contractor install cabinet doors upside down).
They install with efficiency and ease, completing the job much sooner than someone following installation instructions for the first time. Those days saved can mean the difference between your on-time store opening or a costly delay.
ON BUDGET:
Time is money, as they say. If your fixtures aren't installed on time, your plumber, your electrician and your IT technician are waiting. And they're on the clock. Randal's experts will ensure your budget doesn't get blown because your cash wraps aren't in place. Another cost savings: we'll commit to a fixed national price, no matter the variances in labor costs from one coast to the other.
WE'RE ON IT:
Before we ship a single piece of your store, we install the entire package on the shop floor. That's right – we may have built a reception desk for a client 200 times, but we still assemble it and quality check it the 201st time, just to be sure. Because Randal knows that once you get to installation, you're in the eleventh hour. You don't have time for oversights. When our installation team shows up in the field, and the store doesn't quite match the architectural plan, leave it to us to cut down our fixture walls so they fit. We won't leave until you are satisfied that your fixtures are ready for opening day.
So go ahead and put down that power drill. Randal's got this.

507 N Raddant Rd,
Batavia, IL 60510
Tel: (630) 761-0400
Fax: (630) 761-0404