In 2021, Randal Retail Group will celebrate 40 years serving the retail industry. Phil Randazzo incorporated Randal Wood Displays in 1981 with his trademark personal service and a quality product he stood behind. It's a legacy we strive to carry forward to this day.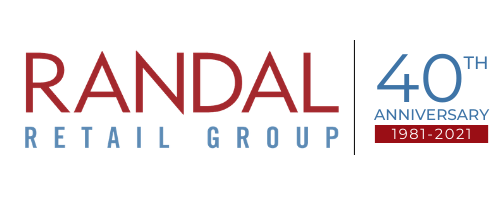 After serving in the Navy during World War II, Phil went to work at Studebaker in Chicagoland, and, after maximizing his potential as a service manager, decided to start his own business with a friend. Perhaps inspired by naval tradition, the partners decided to build and sell shadow boxes. A few years in, a key partnership with a Chicago-based periodicals distributor shifted their focus to magazine racks. Business was strong for 25 years, until heart disease forced Phil to retire in the late '70s.
Phil came out of retirement to form Randal Wood Displays. He had a young family to support and a passion for the business that wouldn't rest. Randal began as a 3,000 square-foot incubator space in Bensenville, Illinois, and Phil was the salesman, secretary, accounting department, and foreman. The company was the very definition of "personal service," and Phil took his role in his client's businesses seriously. No promise was ever broken, no deadline missed. He worked hard, he treated people fairly and he believed in his work. On any given day, he might pop into a client site, a box of donuts in hand, just to check-in.
Phil's roots in manufacturing magazine racks served him well, and soon he was landing national bookseller accounts like Waldenbooks. With the help of Phil's daughter Thea, who joined the company in 1988, Randal expanded into all segments of the retail industry. They moved into a 10,000 square-foot facility in Addison, Illinois, invested in the latest fixture manufacturing machinery, and streamlined their design process with AutoCAD software.
"Being a family business is about taking care of people – our family, our employees, our customers."
In 1990, Phil Randazzo passed away, leaving Randal to his wife and three children. His son Chris, having just earned his college degree, was thrust into leading the business with Thea. "We were growing as the retail industry continued to evolve, but our goal was to stay true to the foundation our father laid," Chris says. "Being a family business is about taking care of people – our family, our employees, our customers." The siblings' dedication paid off: business soon outgrew the Addison facility, and the company built a factory in Batavia where they remain today.
Phylicia, Thea's daughter and the first of Phil's grandchildren to join the family business, came to Randal in 2012. She along with all members of the greater Randal "family," is helping shepherd the company through yet another evolution of retail. The industry has seen much change in the past three and a half decades. But Randal Retail Group has remained a constant in retail fixtures manufacturing.

507 N Raddant Rd,
Batavia, IL 60510
Tel: (630) 761-0400
Fax: (630) 761-0404